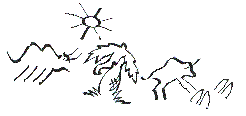 The quiz at the end of today's lesson is about aural identification of major, minor, augmented, and diminished chords. The lecture section will give you a chance to practice again on identifying the different sounds of the four different types of chords.

Here is a reminder of what the four types of chords subjectively sound like:
| | |
| --- | --- |
| | major - consonant and bright |
| | minor - consonant and sad |
| | augmented - dissonant and harsh |
| | diminished - dissonant and mysterious |
Students should notice this "coloring" of the sound of these different types of chords.
---
Throughout this course of Music Theory 099 you have been offered a "Term a Day". Here is another:
tritone - the interval of a augmented 4th or a diminished 5th
The note F# is a tritone higher that the pitch C.
C to Gb is also a tritone.
F# and Gb are enharmonic and are three whole steps higher than C. The interval has a dissonant sound.
The Interval Dictation section will give you experience with the Perfect 4th and 5th and tritone intervals.